Automatic Disinfection Advertising Machine 21.5 Inch Vertical Touchless Liquid Soap Dispenser, Attendance Machine Disinfection Machine Facial Recognition Machine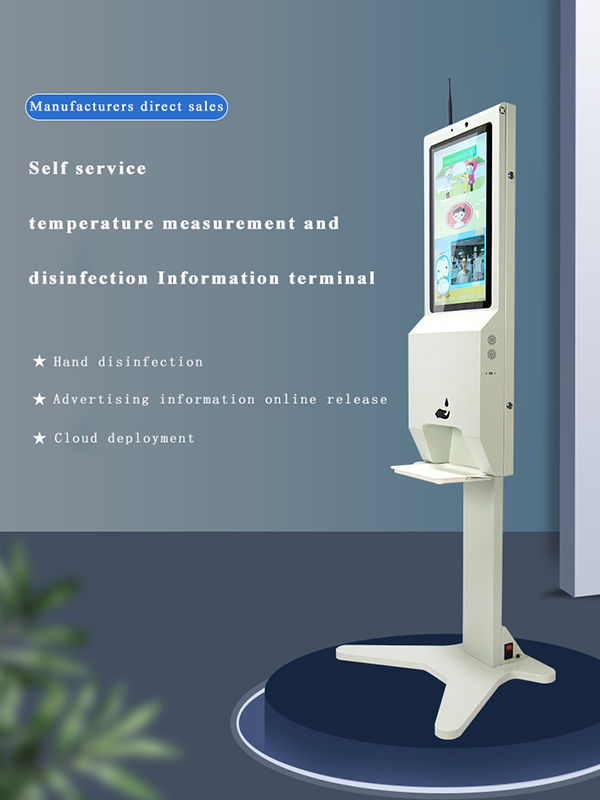 | | |
| --- | --- |
| Model number | BGC-GCE215DC-#6575 |
| Mark | BGC |
| Origin | China |
| small orders | Accepted |
Key Specs/ Special Features:
Product strength
1. Facial recognition, external staff filtering and file storage
It can perform identity authentication and file storage in areas with high population flow, such as shopping malls, train stations, community factories, etc. It can also clock in and record the temperature of employees, and set off alarms and interceptions for strangers.
2. Infrared measurement of human body temperature and sound and light alarm
Using high-precision infrared spectrum sensor and calibrated by black body radiation source, can measure body temperature non-contact over a long distance, which can effectively avoid cross-infection of body temperature .
3. Smart display
The body temperature monitor can adjust the temperature difference of seasonal changes, which can display body temperature more accurately.
4. Intelligent spray disinfection for hand washing
The temperature measurement area is equipped with intelligent induction sprayer, non-contact induction spray, safety and hygiene, can achieve effective sterilization.
21.5″ Sterilized Advertising Machine Product Parameter Table

The host parameter
RK3288 1.8GHz quad-core processor
2G running memory
Expandable 16GB/32GB/64GB/128GB
8 gigabytes of stored memory
Screen settings
21.5 inch, LED, can be customized
Resolution 1920*1080
Brightness: 350 cd/m2
Contrast 1000:1 display area 476*269
New viewing angle of the original industrial screen: IPS full viewing angle
Screen distribution:Two, three screens, etc.,Can be customized
Response time: 6ms
Temperature measurement parameters
Temperature measurement distance: 30-50 cm
Maximum temperature measurement distance: 166 cm
Temperature range: 23-48 degrees
Ambient temperature of the ambient temperature: 20-35 degrees (medical environment), because the human body surface temperature below 15 degrees is no longer a linear relationship, even if the compensation is not accurate, the first start must wait about 10 minutes.
When a person enters the temperature measurement area for 2S, it reads the body temperature, which is the measured body temperature. It should not point at the light source or glass, or allow sunlight to shine on the module sensor.
Interface settings
USB3.0*1, USB2.0*1, RJ45*1, power switch*1,
Power*1, Wi-Fi*1
Parameters of disinfection machine
1000ML
Solution: spray, foam, soap drops
Ultraviolet: Ultraviolet disinfection
Information dissemination software
PC side information publishing software
Cell Phone Information Publishing Software
The flagship version supports facial recognition
WeChat Applet
Advertising Information Push
LAN/cloud deployment support
food
AC100-240V 50/60HZ
Infrared sensor voltage: 6 V AC
Machine power: 18W
The shell process
Solid sheet, tempered glass, nano antifouling and waterproof coating
Random accessories
Manual, warranty card, WIFI antenna, certificate, key, power cord
Applicable area
Supermarkets, hotels, hospitals, residential buildings, commercial buildings, government and enterprise units and other public occasions
a function
Facial recognition、Staff attendance、Temperature measurement、Whether or not to wear a mask
Product certificates
| | |
| --- | --- |
| Certificate standard | THIS |
| Certificate Image | Click on the image to see a larger one |
| Certificate number | ET-20070493C |
| Date of issue | 2020/10/09 |
| Issued by | Shenzhen ETR Standard Technology Co., Ltd |
| Expiration date | 2025/10/09 |
| | |
| --- | --- |
| Certificate standard | RSST |
| Certificate Image | Click on the image to see a larger one |
| Certificate number | ET-200900049 |
| Date of issue | 2020/10/09 |
| Issued by | Shenzhen ETR Standard Technology Co., Ltd |
| Expiration date | 2025/10/09 |
| | |
| --- | --- |
| Certificate standard | |
| Certificate Image | Click on the image to see a larger one |
| Certificate number | ET-20090606E |
| Date of issue | 2020/10/09 |
| Issued by | Shenzhen ETR Standard Technology Co., Ltd |
| Expiration date | 2025/10/09 |
To note:
product.certifyingTips
Delivery Information
| | |
| --- | --- |
| FOB port | Shenzhen |
| Lead time | 5 to 15 days |
| Weight per unit | 29.5 kilograms |
| Dimensions per unit | 48.0 x 20.0 x 115.0 centimeters |
| | |
| --- | --- |
| US HTS code | 4419.96.4z 6x |
| Units per export carton | 1.0 |
| Export Carton Dimensions | 48 x 20 x 115 centimeters |
| export carton weight | 29.5 kilograms |
Main export markets
– Asia
– Australasia
– Central/South America
– Eastern Europe
– Middle East/Africa
– North America
– Western Europe
Download more information about this product